Steve Mohney's Photo Gallery

Steve setting up for the 2015 Classic Corvette giveaway
at the hub city car show (2015)

Steve interviewing the winner of the
2015 edition of the Classic Corvette. (2015)

In the Live 95 studio with the W.F. West cast of Back to the 80s (2013)
Pictured with Camren Richards, Molly Russell, Zoe Sayler, Bryan Adams (not singer),
Austin Fuentes, Jonathan Burton, Hannah Bingham, and Sarah McCallister.
Steve and Miles McKnight at the Chamber of Commerce business after hours at Live 95.

Steve interviewing Miss Lewis County (Jordyn Hall) at the Southwest Washington Fair.

The flood of 2007, it left several feet of water in the Live 95 Studios. Note the canoe
in the parking lot, its original resting place was the lobby where Steve is standing.
Steve "driving" the canoe through the water outside the radio station,
flood of 2007. This was our only way to get to the station.

Ladies and Gentlemen, Creedence Clearwater Revisited! Steve introducing the band at the S.W.W. Fair.

The farewell party to longtime KITI/Live 95 employee Mike O'Connor. Pictured left to right:
Tom Spahr, Denny Murray, Rick Petty, Rick's Tie, Steve Mohney, Mike O'Connor.

Getting some drumming tips from Robbie Bachman.

Takin' Care of Business at the Southwest Washington Fair with BTO.

Nice hip waders! The great flood of '96.

My first big gig.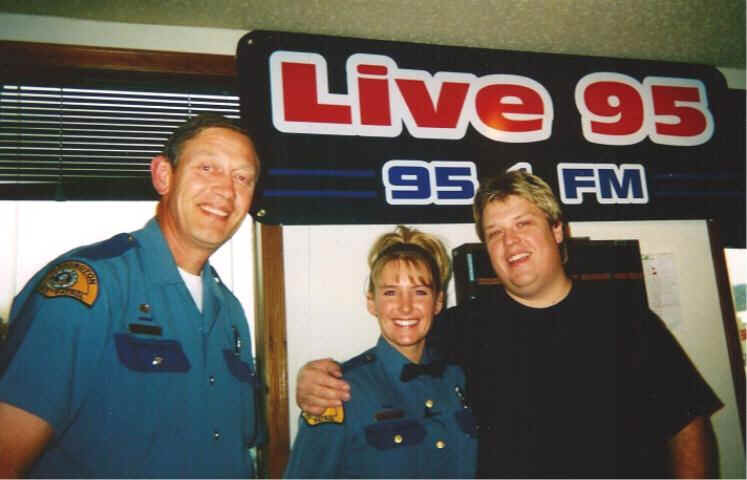 Steve Mohney, friend of Law Enforcement.

My brother, Danny, and me at Mayfield Lake pickin' up chicks.

Having some more fun with the boys from BTO.

With Sticky Fingers & The Tongue Lady at the 2002 Southwest Washington Fair.
Live 95
1133 Kresky
Centralia, WA 98531
USA
©2022
Premier Broadcasters, Inc.

All Rights Reserved

Public Inspection File
Persons with disabilities should contact Matt Shannon
for assistance with issues relating to the Public File


Business: 360.736.1355
Contest: 360.736.1766
News: 360.736.NEWS
Fax: 360.736.4761
Direct your comments to: live95@live95.com